Men's field for 2017 P&G Championships features mixture of veterans, newcomers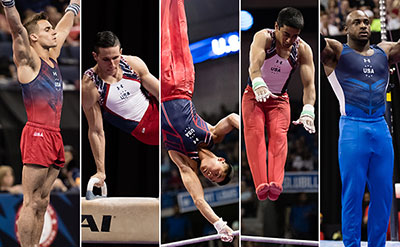 INDIANAPOLIS, August 3, 2017 – For men's gymnastics, the field for the 2017 P&G Gymnastics Championships, Aug. 17-20, at Honda Center in Anaheim, Calif., showcases both Olympians and rising stars. Among the 79 men expected to compete in this year's national championships are: two-time Olympian and four-time defending U.S. all-around champion Sam Mikulak of Newport Coast, Calif./U.S. Olympic Training Center; 2016 Olympic pommel horse bronze-medalist Alex Naddour of Gilbert, Ariz./USA Youth Fitness Center; 2017 AT&T American Cup and Winter Cup Challenge champion Yul Moldauer of Arvada, Colo./University of Oklahoma; and 2016 Olympic replacement athletes Akash Modi of Morganville, N.J./Stanford University, the 2017 NCAA all-around champion, and Donnell Whittenburg of Baltimore, Md./U.S. Olympic Training Center, the 2017 Koper (Slovenia) World Challenge Cup parallel bars gold medalist.
The men's senior field also features 2016 U.S. pommel horse champion Donothan Bailey of Lake Forest, Calif./U.S. Olympic Training Center; 2017 Men's Qualifier all-around champion Marvin Kimble of Milwaukee, Wis./Salto; 2017 Koper World Challenge Cup floor exercise gold medalist Eddie Penev of Rochester, N.Y./U.S. Olympic Training Center; and 2016 U.S. co-vault champion Matthew Wenske of Houston, Texas/University of Oklahoma.
Other senior national team members registered for the 2017 P&G Championships are: Allan Bower of Mesa, Ariz./University of Oklahoma; Sean Melton of Orlando, Fla./Ohio State University; and Kanji Oyama of Huntington Beach, Calif./University of Oklahoma.
Four members of the U.S. Junior National Team are competing in the senior division: Cameron Bock of Tustin, Calif./U.S. Olympic Training Center; Jordan Kovach of Chickasha, Okla./Bart Conner Gymnastics Academy; Wenske; and Shane Wiskus of Spring Park, Minn./University of Minnesota.
The junior elite competition features six members of the current men's U.S. Junior National Team: Max Andryushchenko of Arlington Heights, Ill./Ohio State University; Joshua Davis of Frisco, Texas/WOGA Gymnastics; Vitaliy Guimaraes of Arvada, Colo./5280 Gymnastics; Bennet Huang of Palo Alto, Calif./West Coast Olympic Gymnastics Academy; Griffin Kehler of Frisco, Texas/University of Nebraska; and Alexei Vernyi of Cypress, Texas/University of Oklahoma.
The P&G Championships determines the men's and women's U.S. champions and the U.S. National Team for the junior and senior elite levels. The competition features the country's top gymnasts, and the championships will serve as part of the selection process for the 2017 World Championships, Oct. 2-8, at Montreal's Olympic Stadium. For more information, go to pgchamps.com.
Single-session tickets range in price from $20 to $122 per ticket. In addition to single-session tickets, multi-session ticket packages are also available and listed below (prices listed are per person per ticket package).
Women's Gymnastics Day One: both junior and senior sessions on Aug. 18, $85-$150.
Women's Gymnastics Final Day: both junior and senior sessions on Aug. 20, $99-$165.
Men's Gymnastics Package: all men's junior and senior sessions, Aug. 17 and 19, $85-$130.
Senior Finals Package: senior men's and senior women's sessions on Aug. 19-20, $95-$140.
All-Session Ticket Package: all competitive sessions, $159-$699. Platinum packages include VIP seating in the first five rows, an Olympian meet-and-greet, and a USA Gymnastics gift.
Tickets may be purchased at Ticketmaster.com or by phone at 800-745-3000.
The competition schedule, which is subject to change, is outlined below:
Thursday, August 17: Men's gymnastics, Day 1 – 1 p.m., juniors, and 7 p.m., seniors
Friday, August 18: Women's gymnastics, Day 1 – 1 p.m., juniors, and 7:30 p.m., seniors
Saturday, August 19: Men's gymnastics, Finals – 12 p.m., juniors, and 5 p.m., seniors
Sunday, August 20: Women's gymnastics, Finals – 11 a.m., juniors, and 3:30 p.m., seniors
In addition to several post-Olympic gymnastics tour events, Honda Center also has played host to the 2003 World Gymnastics Championships and the 2004 U.S. Olympic Team Trials – Gymnastics. Honda Center and Visit Anaheim are working with USA Gymnastics to stage the championships.
2016 Olympic all-around champion Simone Biles of Houston, Texas/World Champions Centre, and Mikulak won their fourth consecutive women's and men's U.S. all-around titles, respectively, at the 2016 P&G Championships. The roster of former U.S. all-around champions is a veritable who's who of gymnastics, including: women – Jordyn Wieber, Nastia Liukin, Shawn Johnson, Carly Patterson, Courtney Kupets, Shannon Miller, Dominique Dawes, Kim Zmeskal and Mary Lou Retton; and men – Jonathan Horton, Paul Hamm, Blaine Wilson, John Roethlisberger, Mitch Gaylord, Peter Vidmar and Bart Conner. The U.S. Gymnastics Championships traces its history back to 1897 for the men and 1931 for the women. This is the first time the event will be held in Anaheim, Calif.
The annual USA Gymnastics National Congress and Trade Show is a three-day event open to the entire gymnastics community. Held in conjunction with the P&G Championships, the National Congress provides a unique opportunity for presentations, demonstrations and educational seminars on a variety of topics and a large exhibitor's hall with additional business opportunities. The 2017 edition will be staged Aug. 17-19 at the Anaheim Convention Center.
Background information
Honda Center. Honda Center is the premier entertainment and sports venue in Southern California. Owned by the City of Anaheim and operated by Anaheim Arena Management, LLC, the arena opened in June of 1993. The National Hockey League's Anaheim Ducks have called the arena home since their inaugural season in the fall of 1993. In addition to Ducks games, Honda Center hosts a variety of world class acts such as The Rolling Stones, The Who, Fleetwood Mac, Professional Bull Riders and more. For more information, visit www.hondacenter.com.
Visit Anaheim. Founded in 1961, Visit Anaheim is a 501 (c)(6) nonprofit destination marketing organization. Visit Anaheim's mission is to develop, market and sell Anaheim benefiting the economic vitality of our communities. Follow Visit Anaheim on Facebook (Facebook.com/VisitAnaheim) Twitter (@Visit_Anaheim), Instagram (Instagram.com/VisitAnaheim) and LinkedIn (VisitAnaheim)
USA Gymnastics. Based in Indianapolis, USA Gymnastics is the national governing body for gymnastics in the United States. Its mission is to encourage participation and the pursuit of excellence in the sport. Its disciplines include men's and women's artistic gymnastics, rhythmic gymnastics, trampoline and tumbling, acrobatic gymnastics and Gymnastics for All (formerly known as group gymnastics). For more complete information, log on to www.usagym.org.
2017 P&G Men's Gymnastics Championships Field
Alpha by state, last name
Arizona
Zack Mollett, Tempe, Ariz./Sun Devil Gymnastic Club, senior
Alex Naddour, Queen Creek, Ariz./USA Youth Fitness Center, senior
Alex Powarzynski, Gilbert, Ariz./University of Oklahoma, senior
California
Jeremy Bischoff, Canyon Country, Calif./Wallers GymJam Academy, junior (15-16)
Adrian De Los Angeles, Long Beach, Calif./U.S. Olympic Training Center, senior
Bennet Huang, Palo Alto, Calif./West Coast Olympic Gymnastics Academy, junior (17-18)
Riley Loos, El Dorado Hills, Calif./Technique Gymnastics, junior (15-16)
Akash Modi, Stanford, Calif./Stanford University, senior
Brandon Ngai, Sacramento, Calif./University of Illinois, senior
Samuel Phillips, Woodland Hills, Calif./Gymnastics Olympica USA, junior (15-16)
Matthew Randolph, La Canada Flintridge, Calif./Payke Gymnastics Academy, junior (17-18)
Jordan Williams, Concord, Calif./Liberty Gymnastics Training Center, junior (15-16)
Daniel Yoon, Huntington Beach, Calif./SCATS Gymnastics, junior (17-18)
Dylan Young, Burbank, Calif./Gymnastics Olympica USA, junior (15-16)
Colorado
Donothan Bailey, Colorado Springs, Colo./U.S. Olympic Training Center, senior
Cameron Bock, Colorado Springs, Colo./U.S. Olympic Training Center, senior
Vitaliy Guimaraes, Arvada, Colo./5280 Gymnastics, junior (17-18)
Sam Mikulak, Colorado Springs, Colo./U.S. Olympic Training Center, senior
Eddie Penev, Colorado Springs, Colo./U.S. Olympic Training Center, senior
Donnell Whittenburg, Colorado Springs, Colo./U.S. Olympic Training Center, senior
Florida
Justin Ah Chow, Miami, Fla./Universal Gymnastics, junior (15-16)
Crew Bold, Delray Beach, Fla./TAG USA Gymnastics, Inc., junior (15-16)
Antonio Castro, Pinecrest, Fla./University of Nebraska, senior
Evan Kriley, Clearwater, Fla./La Fleur's, junior (15-16)
Travis Wong, Miami, Fla./Universal Gymnastics, junior (15-16)
Georgia
Brody Malone, Cedartown, Ga./Cartersville Twisters, junior (17-18)
Kameron Nelson, Martinez, Ga./Hayden's International Gymnastic Academy, junior (15-16)
Illinois
Max Andryushchenko, Arlington Heights, Ill./Ohio State University, junior (17-18)
Chandler Eggleston, Champaign, Ill./University of Illinois, senior
Paul Juda, Deerfield, Ill./Buffalo Grove Gymnastics Center, junior (15-16)
Curran Phillips, Naperville, Ill./Prairie Gymnastics Club, junior (15-16)
Jordan Valdez, Champaign, Ill./University of Minnesota, senior
Michael Wilner, Buffalo Grove, Ill./Gymnastics Spot, senior
Massachusetts
Liam Doherty-Herwitz, Bedford, Mass./Brestyan's American Gymnastics, junior (17-18)
Yan Inhaber-Courchesne, Westborough, Mass./New England Academy of Gymnastics, junior (15-16)
Stephen Nedoroscik, Worcester, Mass./Pennsylvania State University, senior
Michigan
Michael Jaroh, Northville, Mich./Michigan Elite Gymnastics Academy, junior (15-16)
Minnesota
Jalon Stephens, Minneapolis, Minn./University of Minnesota, senior
Shane Wiskus, Spring Park, Minn./University of Minnesota, senior
Nebraska
Austin Epperson, Lincoln, Neb./University of Nebraska, senior
Kyle King, Lincoln, Neb./University of Nebraska, senior
Christopher Stephenson, Lincoln, Neb./University of Nebraska, senior
Nevada
Brennan Pantazis, Sparks, Nev./Pennsylvania State University, junior (17-18)
New Hampshire
Michael Fletcher, Nashua, N.H./New England Academy of Gymnastics, junior (17-18)
New York
Kevin Penev, Penfield, N.Y./Rochester Gymnastics Academy, junior (17-18)
North Carolina
Nehemiah Baker, Oak Ridge, N.C./Flip Force Gymnastics LLC, junior (15-16)
Donte McKinney, Cameron, N.C./Triumph Gymnastics, junior (15-16)
David Willett, High Point, N.C./High Point Gymnastics Academy, junior (15-16)
Ohio
Trevor Howard, Columbus, Ohio/Ohio State University, senior
Sean Melton, Columbus, Ohio/Ohio State University, senior
Alec Yoder, Columbus, Ohio/Ohio State University, senior
Oklahoma
Allan Bower, Norman, Okla./University of Oklahoma, senior
Jordan Kovach, Chickasha, Okla./Bart Conner Gymnastics Academy, senior
Yul Moldauer, Norman, Okla./University of Oklahoma, senior
Kanji Oyama, Norman, Okla./U.S. Olympic Training Center, senior
Colin VanWicklen, Norman, Okla./University of Oklahoma, senior
Oregon
Spencer Goodell, Tigard, Ore./OMEGA Gymnastics, junior (17-18)
South Carolina
Anthony McCallum II, Columbia, S.C./University of Michigan, senior
Texas
Laz Barnhill, Houston, Texas/Cypress Academy of Gymnastics, junior (15-16)
Garrett Braunton, Cypress, Texas/Cypress Academy of Gymnastics, junior (15-16)
Alan Camillus, Flower Mound, Texas/Southlake Gymnastics Academy, junior (15-16)
John Chou, Houston, Texas/Cypress Academy of Gymnastics, junior (15-16)
Evan Davis, Houston, Texas/Cypress Academy of Gymnastics, junior (17-18)
Joshua Davis, Frisco, Texas/WOGA Gymnastics, junior (17-18)
Jack Freeman, Cypress, Texas/Cypress Academy of Gymnastics, junior (15-16)
Ian Gunther, Houston, Texas/Cypress Academy of Gymnastics, junior (17-18)
Khalil Jackson, Katy, Texas/Champions Gymnastics, junior (17-18)
David Pochinka, Plano, Texas/WOGA Gymnastics, junior (15-16)
Michael Reid, Bedford, Texas/Southlake Gymnastics Academy, senior
Morgan Seyler, Flower Mound, Texas/Southlake Gymnastics Academy, junior (17-18)
Alexei Vernyi, Cypress, Texas/University of Oklahoma, junior (17-18)
Colt Walker, Cedar Park, Texas/AcroTex Gymnastics, junior (15-16)
Matthew Wenske, Houston, Texas/University of Oklahoma, senior
Alexander Wilson, Sugarland, Texas/Ohio State University, senior
Vermont
Nikita Bolotsky, Saint Johnsbury, Vt./Kingdom Gymnastics, junior (17-18)
Virgina
Griffin Kehler, Annandale, Va./University of Nebraska, junior (17-18)
Sean Neighbarger, Virginia Beach, Va./Ohio State University, Elite (senior)
Kiwan Watts, North Chesterfield, Va./Above The Bar Gymnastics Academy, senior
Wisconsin
Marvin Kimble, Milwaukee, Wis./Salto Gymnastics Center, senior